Give us a try now.
Download the program for free and test all the functions without obligation. You will be pleasantly surprised how easy and intuitive the program is operated.
With the free version, all functions are already available, so you can test everything extensively. In the free version the content of the QR codes are easily modified when you use of some design tools – for this you need the Pro version. You can upgrade at any time by entering a license code, it does not require a new installation. For the development of this program several programmers and graphic designers have invested many months work, so that we cannot offer the full functionality of the software for free. We thank all who support our work by upgrading to the full version.
We also offer an online manager (QR Customizer Pro Statistics) that allows you create short links, browser switches (eg directs every smartphone users to the appropriate app store) and manage online business cards. In this way, all the links are short and the QR Codes are clearly and always perfectly legible – and you can change links and content afterwards, without the QR Code changes.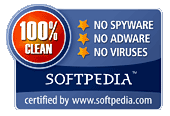 The program was checked with Kaspersky Internet Security 2015 for viruses and malicious content.
File size: approx. 14 MB
Available languages​​: English, German, Dutch, Italian, Japanese
Features & Versions
System Requirements QR Customizer Pro
Approx. 46 MB of hard disk space
Operating system: Windows 10, 8, Windows 7, Windows Vista, Windows XP (SP 3)
Microsoft .NET Framework 4 (If this is not already installed, the installation program will be offered on the first program start.)
Available languages​​: English, German, Dutch, Italian, Japanese
System Requirements QR Customizer Pro Statistics
At least 2 MB of web space (Linux, MacOS, Windows, …)
PHP 5.3 or higher
MySQL database
Available languages​​: English, German, Dutch
Quick Navigation
When installing the following EULA must be recognized:
EULA (End User License Agreement) for QR code generator 4 All Pro (hereinafter called software)
IMPORTANT, PLEASE READ THIS AGREEMENT CAREFULLY before you start installing the software. This EULA is a legal agreement between you (hereinafter called licensee) and the company Hot-World GmbH & Co. KG (hereinafter called licensor). By installing or using the software, you agree that you accept this agreement binding. If you do not agree with this sgreement, do not install and use the software.
The software is protected by copyright. All rights to the program remain with the licensor.
§ 1 License The software is free and can be installed on as many computers and freely distributed and copied.
Creating QR Codes without graphics (logos, patterns, shadows, effects, images) is completely free of charge. Once graphic elements (logos, patterns, shadows) are used, a separately purchasable license code is needed. As long as this is not enabled in the software, the generated QR Codes (so-called Custom-QR-Codes) are output with built-in errors, so that the full functionality is free testable, but the QR Codes are not usable.
A purchased license key allows the activation of all features of the software on one computer. For activation, you must have an internet connection. To use a different computer with the same license code, the code must be previously deactivated in the capitalized software, for which a connection to the Internet is required.
The QR Codes an Custom-QR-Codes created with the software can be used charge free for all media (internet, TV, print, …) for private and commercial purposes. The licensee must have all rights for self embedded graphics in the QR Code, including publishing rights.
§ 2 Costs By installing and using the software no costs arise. Only when you purchase the license code or additional program functions on the website specified fees will be charged.
§ 3 Function of QR Codes and Custom-QR-Codes QR Codes (Quick Response Codes) are coded graphics, that can be read by current smartphones and tablets with the appropriate software. They form a bridge between the real and the virtual world. Nowadays it's hard to find advertisements without this code. With one scan you are directed to a website, a product video or a download link in the App Store. Receive immediately information or the content you want, without having to type a link. Complete Business cards are imported within seconds. Even pre-formulated, pre-addressed mail and SMS as well as free text messages can be transmitted. With the enormous range of practical applications QR Codes are continuously gaining importance.
With this software you can customize your QR Codes with your logo or a photo and with various patterns and effects. In this way you create a recognition and give a personal touch to the code, so to stand out from other competitors.
Since not all QR Code scanner work simultaneously and use different camera systems, the requirements vary for readability as by contrast and fault tolerance, so that the functionality of the generated QR Code and Custom-QR-Codes can not be guaranteed. The licensee may customize the QR Codes with a number of options (colors, logo, patterns, shadows, …) and is therefore solely responsible for the readability of the QR Codes and Custom-QR-Codes.
§ 4 Restrictions Reverse engineer, decompile, or disassemble the software are prohibited.
§ 5 Warranty restriction The licensor rejects any guarantee of the software expressly. The Licensor does not give any guarantee or warranty the accuracy or completeness of the software and the provided functions or their products. The licensor is not liable for any damages or viruses, trojans, malware, or other malicious software that result from the use of the software. The program was written by the licensor to the best of knowledge and belief without malicious programs.
§ 6 Limitation of Liability The author of this program is not liable for damage to software or hardware, or property damage caused by the use of the program, unless they are based on gross negligence or intent on the part of the author, his agents or his legal representatives.
For damage to the health, the body or the life of the user, the author is fully liable. Likewise, he is liable for the breach of duties that are necessary to achieve the purpose of the contract (cardinal obligation).
§ 7 Privacy Policy All QR Codes are completely generated on the computer where the software was installed. There is no hidden transmission or analysis of the entered data by the program, only the user can export the generated QR Codes as image files.
§ 8 Trademarks "QR Code" is a registered trademark of DENSO WAVE INCORPORATED.
IMPORTANT: This EULA is a translation from the following German EULA that applies to all contracts:
EULA (Endnutzer-Lizenzvertrag) für QR Code Generator 4 All Pro (im Folgenden bezeichnet als Software)
WICHTIG, BITTE LESEN SIE DIESEN LIZENZVERTRAG SORGFÄLTIG DURCH, bevor Sie die Installation der Software beginnen. Diese EULA ist ein rechtsgültiger Vertrag zwischen Ihnen (im Folgenden Lizenznehmer genannt) und der Firma Hot-World GmbH & Co. KG (im Folgenden Lizenzgeber genannt). Durch die Installation oder die Nutzung der Software erklären Sie, dass Sie diesen Vertrag verbindlich annehmen. Wenn Sie mit diesem Vertrag nicht einverstanden sind, installieren und verwenden Sie die Software nicht.
Die Software ist urheberrechtlich geschützt. Sämtliche Rechte am Programm bleiben beim Lizenzgeber.
§ 1 Lizenz Die Software ist kostenlos und darf auf beliebig vielen Rechnern installiert und kostenlos weitergegeben und kopiert werden.
Das Erstellen von QR Codes ohne Grafikelemente (Logo, Muster, Schatten) ist komplett kostenlos möglich. Sobald Grafikelemente (Logo, Muster, Schatten) verwendet werden, ist ein separat käuflicher Lizenzcode notwendig. Solange dieser nicht in der Software aktiviert wurde, werden die generierten QR Codes (so genannten Custom-QR-Codes) mit eingebauten Fehlern ausgegeben, so dass die kompletten Funktionen kostenlos testbar, die QR Codes aber nicht nutzbar sind.
Ein gekaufter Lizenzcode ermöglicht die Freischaltung sämtlicher Funktionen der Software auf einem Rechner. Zur Freischaltung muss eine Verbindung zum Internet bestehen. Um einen anderen Rechner mit dem gleichen Lizenzcode verwenden zu können, muss der Code zuvor in der aktivierten Software deaktiviert worden sein, wozu ebenfalls eine Verbindung zum Internet notwendig ist.
Die mit der Software erstellten QR Codes und Custom-QR-Codes dürfen kostenlos frei für alle Medien (Internet, TV, Druck, …) für private und kommerzielle Zwecke verwendet werden. Für selbst in den QR Code eingebundene Grafiken muss der Lizenznehmer sämtliche Rechte, insbesondere Veröffentlichungsrechte, besitzen.
§ 2 Kosten Durch die Installation und durch die Nutzung der Software entstehen keinerlei Kosten. Lediglich beim Kauf des Lizenzcodes oder zusätzlicher Programmfunktionen fallen die auf der Webseite beim Kauf angegebenen Gebühren an.
§ 3 Funktion der QR Codes und Custom-QR-Codes QR Codes (Quick Response Codes) sind kodierte Grafiken, die von aktuellen Smartphones und Tablets mit der entsprechenden Software ausgelesen werden können. Sie bilden eine Brücke zwischen der realen und der virtuellen Welt. Heute kommt kaum eine Werbeanzeige ohne diesen Code aus. Mit nur einem Scan wird der Interessent auf eine Webseite, ein Produktvideo oder einen Downloadlink im App-Store geleitet und erhält sofort weitere Informationen oder die gewünschten Inhalte, ohne einen Link eingeben zu müssen. Komplette Visitenkarten können so binnen Sekunden importiert werden. Auch vorformulierte und adressierte Mails und SMS sowie freie Textbotschaften können so übertragen werden. Das Spektrum praktischer Anwendungen ist enorm, so dass die Bedeutung der QR Codes kontinuierlich wächst.
Wir bieten Ihnen die Möglichkeit, Ihre QR Codes z.B. mit Ihrem Logo oder einem Foto sowie mit verschiedenen Mustern und Effekten zu individualisieren. Hierdurch erzeugen Sie einen Wiedererkennungswert und geben dem Code eine persönliche Note, um sich so von anderen Mitbewerbern abzuheben.
Da nicht alle QR Code Scanner gleich arbeiten und unterschiedliche Kamerasysteme verwenden, schwanken die Anforderungen zur Lesbarkeit z.B. durch Kontrast und Fehlertoleranz, so dass die Funktionalität der generierten QR Codes und Custom-QR-Codes nicht garantiert werden kann. Der Lizenznehmer kann die QR Codes mit etlichen Möglichkeiten (Farben, Logo, Muster, Schatten, …) individualisieren und ist somit selbst für die Lesbarkeit der QR Codes und Custom-QR-Codes verantwortlich.
§ 4 Einschränkungen Reverse Engineering, Dekompilierung und Disassemblierung der Software sind grundsätzlich verboten.
§ 5 Garantieeinschränkung Der Lizenzgeber lehnt jede Gewährleistung für die Software ausdrücklich ab. Der Lizenzgeber übernimmt keine Gewähr oder Haftung für die Korrektheit oder Vollständigkeit der Software und der bereitgestellten Funktionen oder deren Produkte. Der Lizenzgeber übernimmt keine Haftung für Schäden oder Viren, Trojaner, Malware oder andere Schadsoftware, die durch die Nutzung der Software entstehen oder eingeschleust werden. Das Programm wurde nach bestem Wissen und Gewissen ohne Schadprogramme vom Lizenzgeber programmiert.
§ 6 Haftungsbeschränkung Der Autor dieses Programms haftet nicht für Schäden an Soft- oder Hardware oder Vermögensschäden, die durch das Benutzen des Programms entstehen, es sei denn diese beruhen auf einem grob fahrlässigen oder vorsätzlichen Handeln des Autors, seiner Erfüllungsgehilfen oder seiner gesetzlichen Vertreter.
Für Schäden an der Gesundheit, dem Körper oder dem Leben des Nutzers haftet der Autor uneingeschränkt. Ebenso haftet er für die Verletzung von Pflichten, die zur Erreichung des Vertragszwecks von besonderer Bedeutung sind (Kardinalspflichten).
§ 7 Datenschutz Alle QR Codes werden komplett auf dem Rechner, wo die Software installiert wurde, erzeugt. Es erfolgt keine versteckte Weitergabe oder Auswertung der eingegebenen Daten vom Programm, lediglich der Nutzer kann die erzeugten QR Codes als Bilddateien exportieren.
§ 8 Markenzeichen "QR Code" ist ein eingetragenes Markenzeichen von DENSO WAVE INCORPORATED